hotshows
now browsing by tag
Ladies welcome! YOUR Girl gets in FREE!! come see us!! call for details!!
G Girl April! Available day shift. 503 972 1111
Come visit Sarena on Tuesdays and Fridays at the Gspot!! Friendly, fun and sexy!! Call 503 972 1111.
Follow us on Instagram! GspotPDX! Come visit and get a free tour! Tuesdays and Fridays with Sarena!!
pdxgirls.com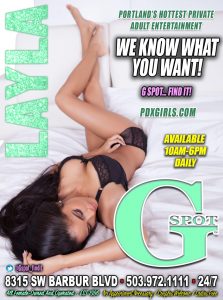 Tonight!! 2 Girl Special!! Call for Details!! 503 972 1111