coupleswelcome
now browsing by tag
Ladies welcome! YOUR Girl gets in FREE!! come see us!! call for details!!
We are open 24 hours a day and 7 days a week! Domination, Role play and fetishes!!
Exotic, playful and gorgeous are the words that best describe our featured G girl SARENA! She is available Tuesdays and Fridays weekly! 503 972 1111 Call for more info!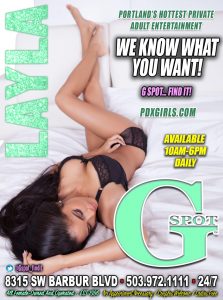 Tonight!! 2 Girl Special!! Call for Details!! 503 972 1111
Exotic, sweet and absolutely beautiful! She is from the Philippines! She loves to give up-close and personal shows. A true performer! She works Wednesday all day and night
for your pleasure!! 10 am until 5 am! You can call for the rest of her schedule! 503 972 1111 G girl STAR awaits…